By Jesús Arias García, KNXin.
Many people in the industry will not agree with the sentiment of this title, but two things happened to me over the past few weeks that made me reflect on this subject.
Prepaid Electricity Meter
Like the vast majority of the houses in South Africa, I had a prepaid electricity meter installed. The service provider has replaced my normal tariff meter, which is what we are used to in Europe for example, with a 'no money, no electricity' meter. This meter is extremely simple and the instruction sheet is very short.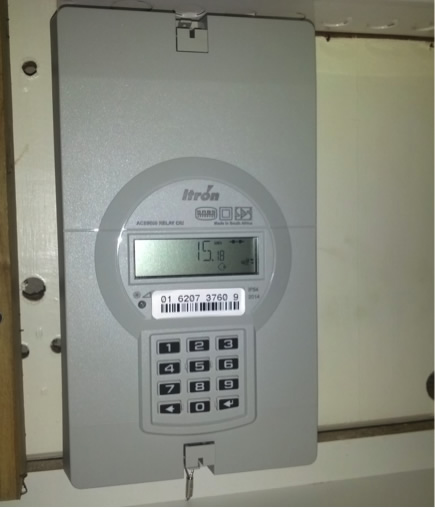 So now people in South Africa can buy electricity from everywhere: from tills at the supermarkets to bank apps, which are quite impressive. No one refers to kWh, but instead they talk about 'units', and ask 'how many units have we got left.' This sounds somewhat clinical to me, but it is something that everyone seems to understand.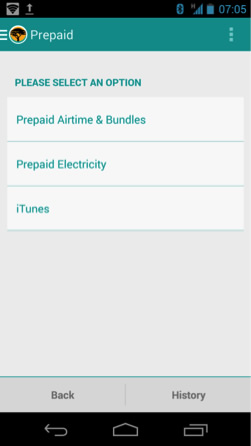 You simply buy a token, which is entered into the meter using a keypad, and in few seconds you see your units go up. Whilst the process may be simple, there is in fact a lot of technology and development behind this way of purchasing energy.
Loadshedding
If you live in a so-called first-world country, you are probably unfamiliar with loadshedding, but in some countries this is used when demand outstrips supply.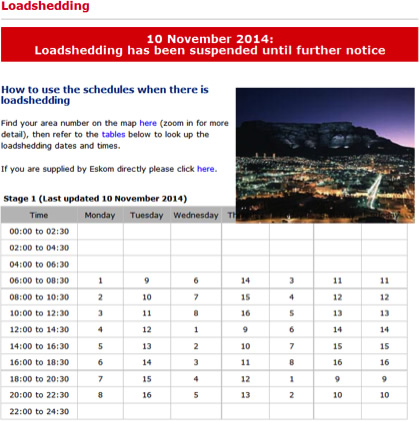 In the example above, due to a failure in a conveyor belt at the coal-fired power plant, there was not enough energy to supply the city, so loadshedding was implemented. Whole neighbourhoods were shut down for several hours according to the schedule, so if your neighbourhood is on the schedule – which is the second thing that happened to me – you had better be prepared with candles, torches, batteries and possibly a backup power generator.
Loadshedding is not only used when there are power plant failures, but also when demand is higher than production.
Now for the facts:
Fact 1: Gross Domestic Product Growth
According to The Economist and its popular 'The World in 2014', this was the prediction for global domestic product growth in 2014: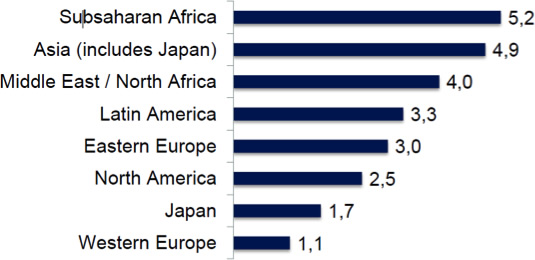 I am not the biggest fan of this indicator as it is only one of many statistics, but it is helpful when trying to understand roughly how the world is developing.
Fact 2: Access to Electricity.
The map below shows the percentage of the population, per country, that has access to electricity. As you can see, the figures for Africa are shocking (no pun intended).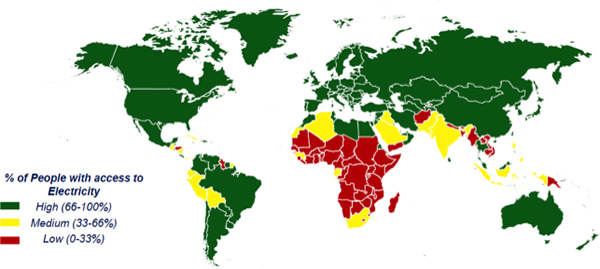 Another way to look at it is that there is huge potential in Africa for energy efficiency. Many people I talk to agree that Africa will be the research laboratory for the smart city. Since there is so much to do, there is plenty of room to implement solutions from scratch, but the solutions for this continent must be affordable, and in many instances depend on public initiatives and/or investment funds.
Energy Distribution and Energy Storage
Some of the new public developments are based on battery-based energy storage. This type of house is very simple, with few electrical circuits, which can be fed with only a few batteries. This avoids the problem of loadshedding and it helps with energy distribution, because the electricity is prepaid.
The battery business is booming, with new technologies being introduced, more storage capacity and much less maintenance. Sometimes the energy is not stored in normal batteries, but in the form of energy potential, as in the case of the 'Gorona del Viento' project in the Canary Islands.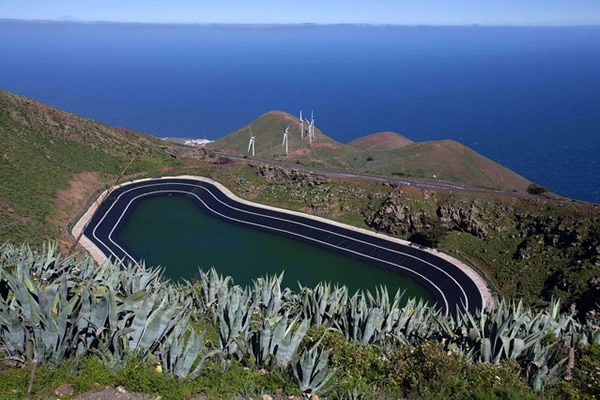 In this case, when there is an excess of energy production, water is pumped up to a man-made dam. When there is high demand and the power plants cannot supply enough energy, the water is released, producing electricity via a hydraulic turbine.
Low-Cost KNX
The KNX Association is pushing hard the idea of the Smart City. However, the most ambitious Smart City projects are happening in newly-developing countries, where it is difficult to afford KNX installations. I still believe that KNX is the best solution as the cornerstone of the Smart City, since it allows management of loads in buildings and houses based on a standard technology. So, should KNX be a part of the solution in such countries? Yes, definitely!
I think we will witness new initiatives in the coming years. Existing and new KNX Members will start manufacturing simpler and more affordable products for different segments and for different markets. Right now, KNX manufacturers are playing the '100 to 1' game, which means that they prefer to sell 100 units to 1 buyer. What we are missing is the '1 to 100' approach, which means selling 1 unit to 100 buyers. To achieve this requires mass production, which may seem like quite a challenge, but ultimately it will benefit us all because it will result in the expansion of the KNX standard as a mass adoption technology.
Jesús Arias García is a freelance Engineering Consultant for KNXin, a consultant engineering firm specialising in KNX technology and green buildings. His co-authored book 'KNX for LEED' is available through the KNX Online Shop. as well through Amazon.
You are welcome to comment on this article. See below.