By Dr KNX.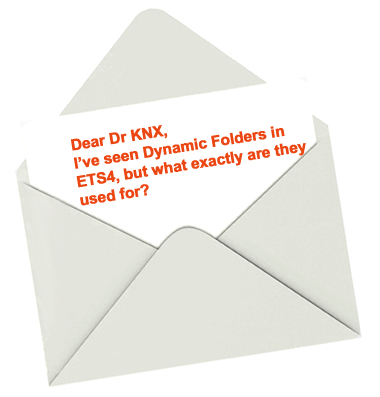 Dear KNXer,
ETS4 Dynamic Folders make it possible to list ETS items, such as devices, according to your needs. This feature is very useful for big projects, because it allows you to filter ETS items according to your own specific criteria, in any combination.
Dynamic Folders are configurable views of the data in a KNX project. 'Configurable' means that the user can use selected criteria to define what data will be shown in the List View.
Dynamic Folders are stored in a user-specific configuration file on the computer. This means that each computer user has their own dynamic folders, and these are all located in the top-level container of the Tree View, called the 'Dynamic Folder'.
ETS includes several Dynamic Folders by default (see table below), but you can always create as many new ones as you wish.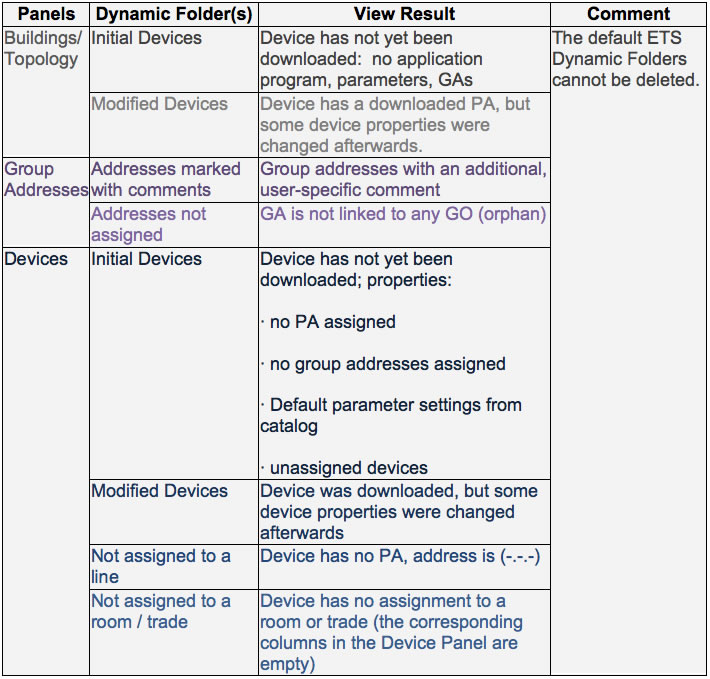 Creating Dynamic Folders
To create Dynamic Folders, proceed as follows:
1. In the root folder (the container), select Dynamic Folders or a dynamic folder which already exists.
2. Add/ Edit/ Delete
– using buttons.
– using the Edit menu.
– using the context menu (right click).
3. Define
Folder properties and Folder criteria (see DF Dialog).
4. Save
ETS will refresh the Tree/List View;
If there is an error because of the Folder criteria defined, ETS will display a warning message.
5. Open
Open or reopen the Dynamic Folders by selecting them in the TreeView .
As an example, suppose we want to have the overview of all devices where:
The individual address is already loaded AND
The Trade= 'third floor' AND
The Room = 'office 20' AND
The line address = 3.7.
The overview would appear as in the image below.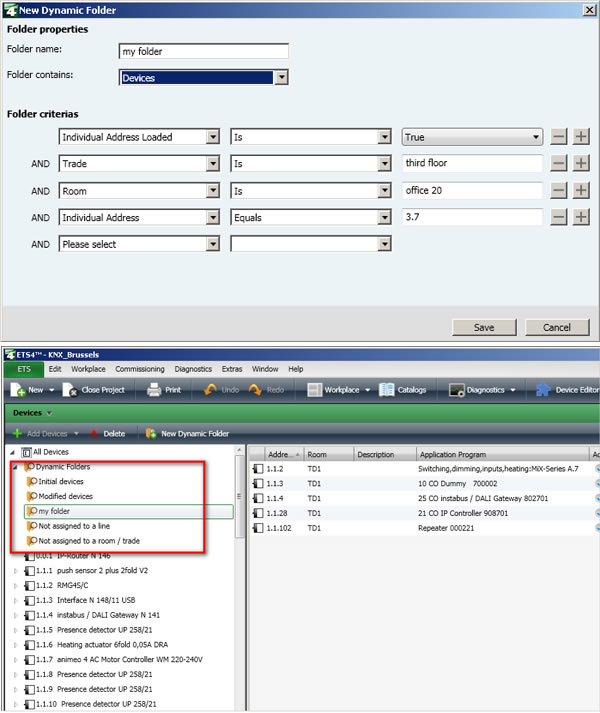 Dynamic folders can be set up easily with ETS4, and you can save them, re-use them and of course modify them. For more details consult ETS4 Help.
I hope that helps, but if you have any questions about this, or any other technical issue, please send me an email at info@knxtoday.com, and I will do my best to answer you.
Yours truly
Dr KNX