Research company BSRIA has announced the availability of its latest series of reports on the smart home market in Europe and North America.
The Smart Home Controls study looks at three major sectors, namely the Smart Home Market, Home Energy Management and Intelligent Residential Environmental Controls. The product scope covers:
User interface.
System controller.
Field devices (sensors, switches/relays, actuators).
Energy management panel and software.
Smart meter.
Energy meter or plug.
Intelligent thermostat.
This study is based on extensive research and interviews with industry experts and key players. The interviews were conducted in field work and both face-to-face or via telephone. Targeted interviewees included product specialists, managers, company owners, and communication executives.
UK Executive Summary
The UK smart home market remained strong during the continued economic recession in the UK, as the high-end luxury sector showed 7% growth in value year on year, especially around Greater London. BSRIA estimated the Smart Home market to be almost GBP£40 million in 2012.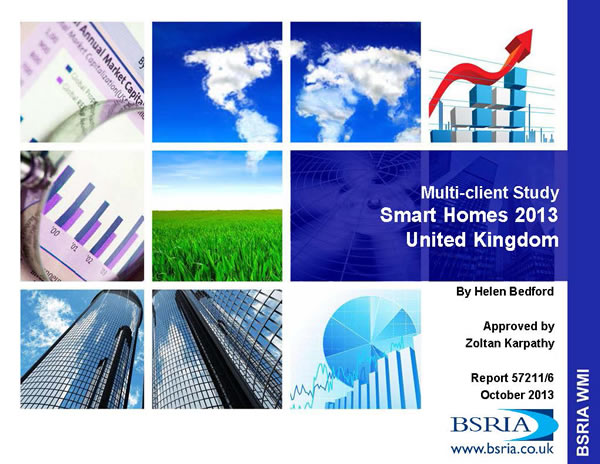 The main emphasis of concentration stayed in the luxury segment due to continuing inelastic demand in the high-end housing sector in the UK. Although there were some expectations that this product might be penetrating the mid-housing segment, this has not fully materialised yet. However, there has been a trend for less expensive smart home solutions mainly due to the widespread availability of KNX–based products in the market. KNX-based products continue to gain further recognition in the market, and are expected to reach up to 60% of the market by 2015.
With the overall expected investment into the prime luxury residential market in the UK earmarked to reach £38 million over the next decade in the UK, the smart home segment has got far-reaching potential.
Pricing and Availability
GBP£1,850 per country report (GBP£6,000 for the North America report) or GBP£11,000 for all EU reports with the Rest of EU report, or GBP£17,000 for the complete study.
For additional information contact scott.taylor@bsria.co.uk or Steve.Turner@bsria.co.uk